Here are a list of good books you can read to the children in your home or classroom in celebration of Earth Day, or anytime you want to talk about recycling and conservation.
The Adventures of a Plastic Bottle
This book follows how plastic bottles are made, how they get recycled, and some of the things they can be recycled into.


The EARTH book
This book illustrates ten simple ways the children can help take care of the earth!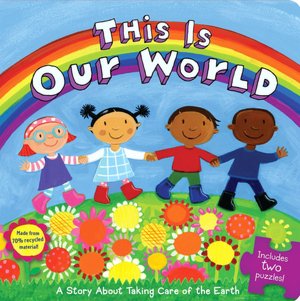 This is our world
This book takes children on an interactive journey while learning to clean the air, reduce pollution, recycle, and more. Nine double-sided puzzle pieces are included in this book so kids can create two different puzzles!!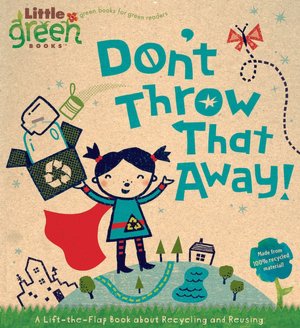 Don't Throw that Away
This book follows an eco-conscious super hero as he teaches kids how to recycle and reuse common household items! The five large flaps throughout show that oridinary trash is really a treasure.
---
The list of books listed below can be found through a BareFoot Books seller  You can find these at www.smk.barefootbooks.com.
The Barefoot Book of Earth Tales
Learn how different cultures around the world set out to live in harmony with the natural world. The seven folk tales are each followed by a hands-on activity that promotes green living and reinforces the eco-messages of the stories.
Ages 5 to 11 years
My Mama Earth
Watch the wonder experienced by a small child journeying through the world and round the day taking in the many magnificent aspects of nature. This imaginative and lyrical picture book showcases the love between a mother and child, celebrating the ever-changing beauty of the natural world along the way.
Ages 1 to 7 years
Whole World Mini Edition
Connect with the whole wide, wonderful world with this green book that rejoices in the marvels of our environment. The catchy rhyme in this new take on a traditional spiritual begs to be sung aloud. Includes lots of facts about the Earth's eco systems and tips on how to be eco-conscious.  Includes CD sung by acclaimed children's performer Fred Penner.
Ages 3 to 7 years
Whole World Fun Eco Activities
Enjoy some eco-fun with the games, puzzles, art activities and quizzes in this earth-friendly activity book. The fun is enhanced by tips on how to look after the environment, and the pages are printed on 100% recycled paper.
Ages 3 to 7 years
The Sun in Me
Listen to the soothing patter of a summer rainfall, watch the first flames of the rising sun, and sing with the stars as you travel through this enchanting anthology of nature poems. Poems from many different cultures are brought together here to celebrate the beauty and fragility of our lovely Earth.
Ages 3 to 11 years
Yoga Planet
50 Fun Activities for a Greener World
Try out each of the fifty poses and games in this interactive deck to feel connected to the Earth's elements. Written by Yoga Ed., each of the cards is in line with one of the planet's natural elements: air, earth, fire, water and space.
For all ages
Natural Child Gift Collection
Share the message of living in harmony and appreciating our fragile planet! Featuring the paperback edition of Whole World with music CD, the hardcover edition of The Barefoot Book of Earth Tales, and card deck editions of Kids' Garden, Kids' Kitchen, Yoga Planet and Yoga Pretzels –all packaged in a beautiful, colorful canvas tote bag with gift tag.
For all ages
Barefoot Books World Atlas
Embark on a mind-expanding journey across the planet. Your guide is earth enthusiast and TV presenter Nick Crane. Your map-maker is artist David Dean. Divided by geographical region, the Barefoot Books World Atlas looks at the way in which communities and cultures across the world have been shaped by their natural environment, and at the ideas and initiatives which are shaping the future. An atlas for the twenty-first century, it shows how all parts of the planet are interconnected and looks at the challenges which face us all in creating a sustainable future.
All Ages