We are continuing this week with our "Book & Boogie" ONLINE VIDEO SERIES, where we feature stories with music and movement!
We are featuring a new "Book & Boogie" video each day this week to kick off the series. So far this week, we featured our Warm up & Cool down, and fun story / music combinations about dinosaurs and trains. Next up, we are going to meet a duck named Ruby, and learn a song and movements to "The Little White Duck".
Ducks in the pond
This video features a book and song component that can be used when talking about farms, pond life or animals. "This Way Ruby" is an engaging story, which lends itself to pause at times, pointing out all the things Ruby sees on the pond adventure she has with her siblings. Get the children involved in the story by having them call out "This way, Ruby!"
We will feature one of the videos each day this week on our blog … but you can also have easy access to the ENTIRE collection at www.bookandboogie.com.
CREDITS
Book:"This Way Ruby" by Jonathan Emmett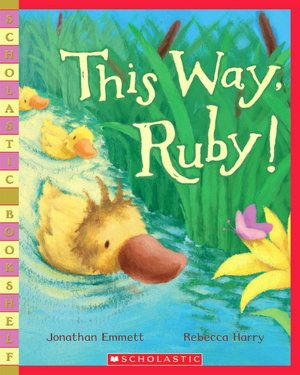 Ruby's brothers and sisters are always racing off in search of adventure. "This way, Ruby!" they call, but Ruby, who is still the littlest, likes to take things slowly.  She prefers to look at all the grassy banks, the willow trees, and the dragonflies, which is just as well, for when the ducklings get lost in a storm, it's up to Ruby to find the way back home!
Music: "The Little White Duck", Miss Lisa, Over in the Meadow
Filmed and edited by: Dan Wills