I am lucky to be part of a group of early childhood bloggers who network, share ideas and support each other online. We have banned together in our first ever "Preschool Blogger Network" blog hop – and we are excited to bring a host of ideas that you can share with your children or class for Earth Day. We decided to pair each of our activities with a book, for and added opportunity to extend the learning objectives. So sit back … relax … bookmark and "pin" all the wonderful ideas you'll find below! Here is our idea for plastic bottle stamping … don't forget to visit all the other ideas linked at the bottom of the post!
Plastic bottle stamping
Here we'll use recycled plastic bottles to make Earth Day art! Collect a variety of empty water bottles – look for the ones that have indentations on the bottom of them. If you are able, collect a variety of bottles in a few sizes, to make a variety of prints.
First, talk to the children a little bit about recycling, and how we can REUSE things that we might otherwise throw away. Show children an empty plastic water bottle – many of them may already know that you can recycle it. But tell them how you will give that plastic bottle another use before you will wash it and put it into the recycle bin.
Next, cover tables with newspaper (another recycled item!), and have small containers of paint and with paint brushes. Then, have children paint the bottom of their plastic bottles and then press onto their paper to make designs or prints. This is how I did it with my daughter at home … in a classroom setting, I would try setting up shallow bowls or paper plates with paint for children to dip the bottles into and then stamp.
Next, have children turn the bottles over and paint the caps and press those as well.
Printing the painted cap inside the print of the bottom of the bottle can look like a flower!
They can just make a bunch of prints …
… or they can turn their prints into a painted scene.
My daughter added some gems to the center of her flowers. You can add other "recycled" items, such as old buttons, leaves or twigs from outside, discarded fabric pieces … anything! It's a good open-ended art activity … I really had no idea how this would come out going — but my daughter sure did enjoy the process! (I think she really liked the large paint brush I gave her … she got a kick out of painting the bottom of the bottles!)
The Book
Pair this activity with the book "The Adventures of a Plastic Bottle", which follows how plastic bottles are made, how they get recycled, and some of the things they can be recycled into. I definitely learned some things about the recycling process from this book!
;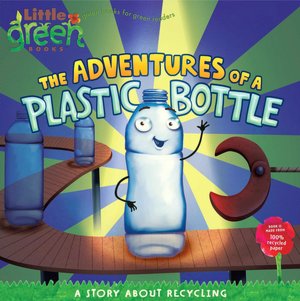 The Blog Hop
Now don't go away because there are even more Earth Day books along with super great ideas being shared by these bloggers today! Stop by and bookmark or even go ahead and pin them all! … Teach Preschool : Child Central Station : Living Montessori Now : Aunt Annie's Childcare : The SEEDS Network : Flights of Whimsy : Pre-K Pages : Kreative Resources : I'm a teacher, get me OUTSIDE here! : Share & Remember : Music Sparks : little illuminations : Greening Sam and Avery : Putti Prapancha : Early Play : 52 Days to Explore : Little Running Teacher : Look at My Happy Rainbow : Rainbows within Reach