Today we are sharing one of our Fall season Book & Boogie selections (where we incorporate books and literacy with music and movement activities) – and extending the fun and learning by adding a fine motor craft activity to go along with it.
The Book
"Fletcher and the Falling Leaves"  by Julia Rawlinson
I really enjoy this sweet story about Fletcher the fox and his favorite tree!  Fletcher doesn't understand what is happening to his tree as it is changing colors and losing its leaves. Fletcher tries to help and find ways to stick the leaves back onto the tree (but even the children will realize that this is a hopeless effort) … and poor Fletcher is sad.  But when winter comes, Fletcher gets a big surprise!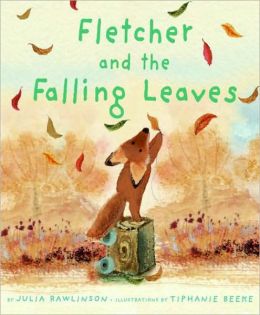 The Music
The music that Tressa selected to go along with this story is called "The Leaves Fall in the Fall" –  by Ernest S. Papay, kids' songs! – Kid Karoake – Songs for the Young and the Young at Heart (can be found on iTunes).  Have the children stand up, listen to the music and put their hands in the air and wiggle their fingers like the leaves in the trees.  When the music says "the leaves are red … and falling" – wiggle your fingers all the way down to the ground.  You can even give children real, fabric or paper leaves as they dance.  Use swaying motions, like the leaves swaying as the wind blows them off the tree and down to the ground.
The Activity
After your story and your boogie … invite the children to make some simple leaf bracelets.  We purchased fabric leaves from our local craft store (and we did it AFTER Halloween when the fall decor is discounted in price).
I snipped off all the leaves from the plastic stems, and then punched a hole into each of the leaves.
We bought some rubber bracelets, (but you can use pipe cleaners, as an alternative) and have the children string some leaves through them.
Voila! Very simple, but a great takeaway activity after the story and music!
As the song says … "It's just that time of year!"